Hey Klipspringers,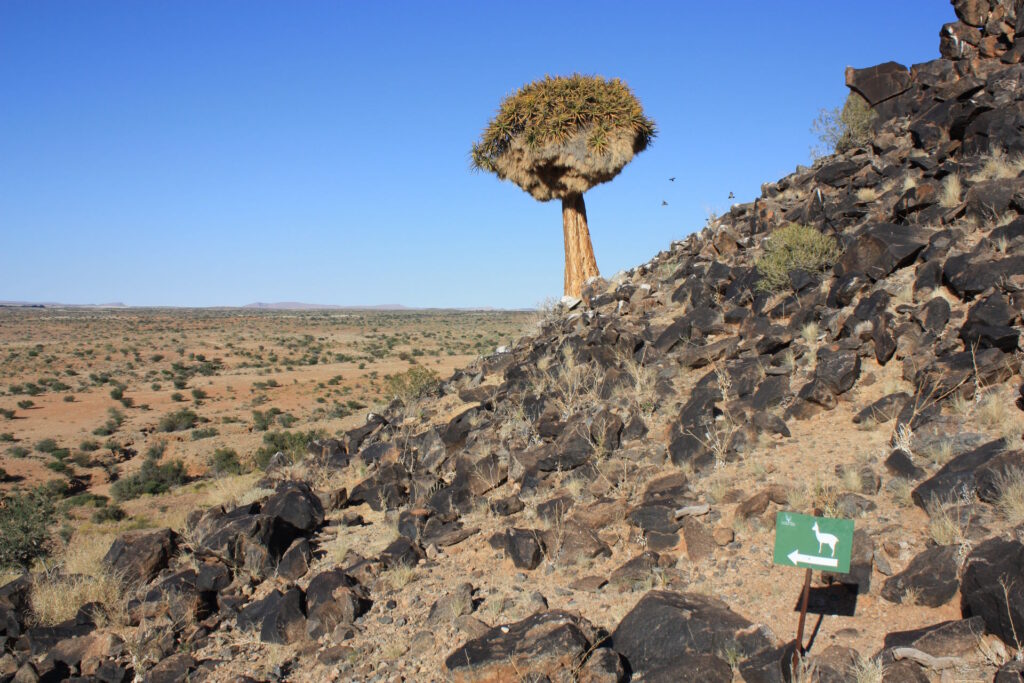 Two weeks to go! The bulk of your training is now (hopefully) mostly done but this final stretch can still be hugely valuable. Just be sure to watch where you're going and don't injure yourselves! Reports from the Park indicate that the river is much closer to normal flow levels at the moment, and we expect the Falls over Race Weekend to be above average for this time of year but nowhere near the flood levels of last year's race. And also with less disruption. That being said it is uncertain whether we will be able to take runners through the Gorge section on the Challenge route again this year. Although the water levels themselves are manageable the effects of the two massive flooding events earlier this year are still being felt and we will be making the call together with the SANParks Rangers a bit closer to the time. Should we not be able to use the Gorge section we will be switching over to the alternative route we used on last year's Challenge, which was loved by most runners.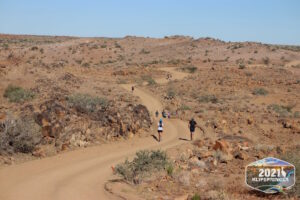 Entries & Deadlines!
Please note that entries are still open and only close at midnight on Sunday 17 April, so if you know anyone who still hasn't entered get them onto the website Klipspringer Challenge to make sure they get their entries in! Remember That Only Paid Entries Are Confirmed!
Registration & Pre-Race Briefing
Registration will take place at the Augrabies Falls National Park Conference Room (just before Reception) on Friday afternoon 28th April from 15h00 – 18h00, where you will register and receive your race pack and race number. There will be a small Registration facility at the Start on both Saturday and Sunday mornings for those people who absolutely cannot make it on Friday – for those planning on making use of this it is recommended that you are at the Start to register by no later than 06h00.
There will be no physical Race Briefing at the venue, but rather we will distribute a Virtual Race Briefing video in the week before the Race. This means that runners do not have to hang around the Park until 7pm on Friday evening after they have registered, and they can watch and re-watch at their own convenience.
Important Khamkirri Ferry Info!!!
The main upside of the more normal water levels is that Khamkirri is able to safely operate their awesome ferry service again this year.
Please familiarise yourselves with the ferry info and directions to Khamkirri from the Upington side here Khamkirri/Ferry
The floods have changed a couple of things but we will be confirming all the finer details closer to the time. One thing we can say now is that it's likely to be a bit wet/muddy getting from your car to the Ferry jetty in the morning, so we recommend that every runner has a headlamp and carries a pair of light sandals that they can wear and just chuck into their hydration pack to avoid the discomfort of wet muddy shoes before they start.
Lunch, drinks, physio and general post-run kuiering will be at the fantastically scenic riverside Khamkirri Race Village.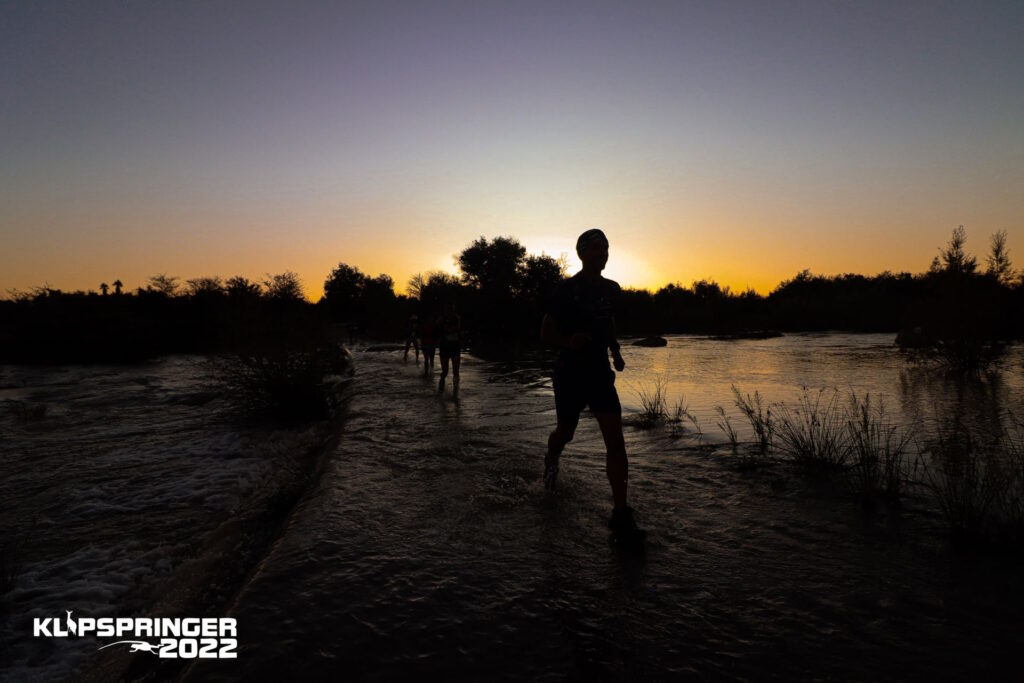 Dietary Requirements
It gets harder every year to cater for the increasingly wide range of dietary preferences we all have, but we sure try! If you have any restrictions or strong preferences (vegetarian / vegan / gluten free) please indicate them by return email before midnight Tuesday 18 April so we can prepare as best we can to ensure no one starves. If you eat anything and everything please ignore this.
Race Tip #2 – Following the trail and Orientation
Following the trail and Not Getting Lost is one of the most important aspects of trail running. Many a race, including some of the world's biggest, have been won or lost because of a wrong turn at a critical time! Don't let it be you! The Klipspringer trails will be comprehensively marked and nobody should get lost, but pay attention! Day One will be marked with specific highly-visible Klipspringer orange ribbon markings, and Day Two will be marked with ribbon and with traditional SANParks Hiking Trail markings (remember that Day Two IS the legendary Klipspringer Hiking Trail). Please always be aware that this is a remote and inaccessible trail in extremely tough terrain. It is unlike the Otter Trail, for example, where the trail is kept clear and visible by the feet of thousands of hikers and tourists every year, and where if the ocean is not to your left, you know you've gone wrong somewhere. In addition, it is not just marketing when we say that the remote Northern Section of the Park has the course running through parts that have literally not seen human feet! So although you shouldn't, there is always the possibility of finding yourself off the trail. Please note that the race maps are not navigation standard and the best advice here is that each and every runner take responsibility for their own run – do not just follow other runners, always be looking for the next trail marker, and pay attention to the actual direction of the arrows and trail markers (and Race Organiser instructions in Race Briefings). Also try and just be generally aware – if you've run for more than 100m – 200m without seeing a marker, the chances are that you are off the trail and should double back to the last one you saw. We will repeat this advice many times before the Race!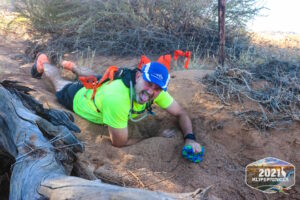 Race Tip #3 – Race Nutrition
Now is the time to start planning your Race eating. Yes there will be a lot of delicious (and nutritious) stuff at the Water Tables so you will definitely not go hungry. However it always pays to think of anything in particular that you might like to have with you on a long hard day out on the trails and have it with you. It also pays to have an emergency stash of something that can hit that spot if you do hit an energy wall in between Tables.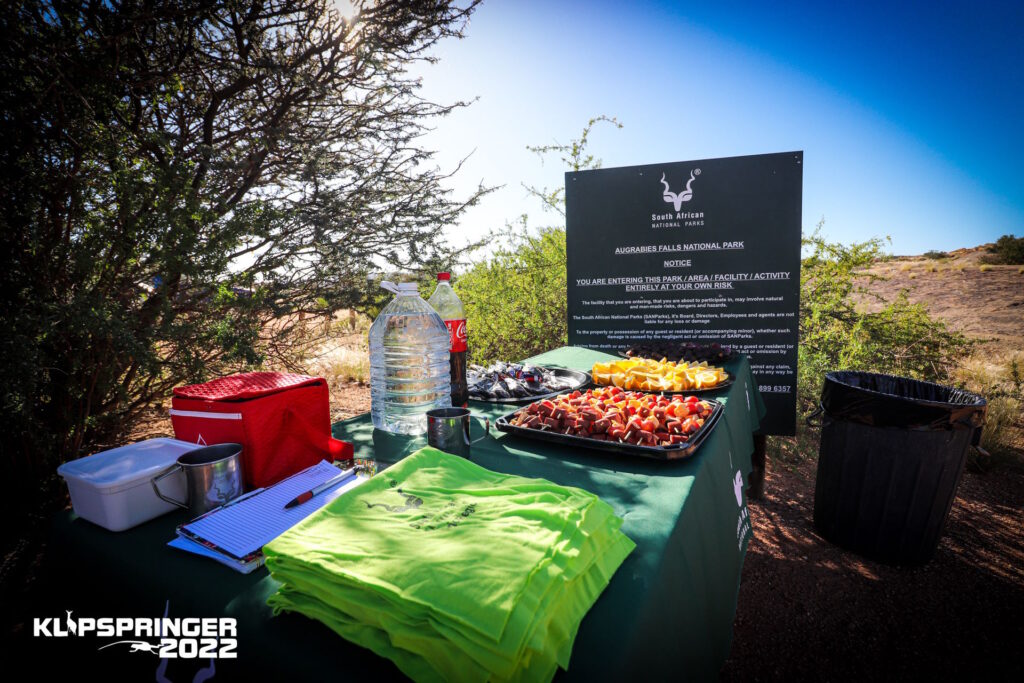 Past Communications
If you missed the previous email briefing it contains a lot of important info so make sure you read it Pre-Race Briefing #1
Enjoy this last stretch of training and as always any questions just shout! In the meantime here's last year's official Klipspringer Race Video to whet your appetite 2022 Race Video
Your Klipspringer Team