KLIPSPRINGERS!
4 weeks and counting!
For those new to the Klipspringer, we found that even before the pandemic turned everything virtual, our electronic Pre-race Briefings were a very popular and useful method of communication before the event. It's a great way to provide news, updates, race requirements and changes. It is also a convenient place to put out some race tips, which many of you have asked for, and some training tips for those entrants who are relatively new to trail running. All of the important info will also be put up on the race website and Facebook Page. And of course, as usual, please do not hesitate to contact me directly with any specific questions you may have.
Entries
Remember only Paid Entries are confirmed. If you have entered but not yet paid we cannot guarantee you a spot as we fill up. As always, in terms of our agreement with SANParks, numbers are limited so don't dawdle! Similarly if you've entered but your friends have not yet, make sure you remind them ASAP to avoid them being disappointed.
Compulsory & Recommended Equipment
Being a desert run in winter, one of the upsides of being virtually guaranteed no rain is that it makes it easy to compile the compulsory equipment list – water, phone, whistle and space blanket! Challenge competitors will be required to carry a minimum of 1.5 litres of water from the Start, and Lite competitors a minimum of 1 litre. Why? The idea is that runners have sufficient water to get them from watering station to watering station. It is properly DRY and often very HOT out there, even at this time of the year. For most of us running in the desert, it is not even a thought that this 1.5 litres could last for the whole race. For you racing snakes used to running with very little water and then hydrating like mad at the Finish, this includes you! Regarding space blankets, remember that much of the precaution around the idea of having a Compulsory Kit requirement is not aimed at your perfect running day but rather that day where things go wrong. A missed step and a broken leg on an inaccessible stretch of trail, shock sets in and your core body temperature plummets – even in +30C that space blanket can literally save your (or somebody else's) life. Please also note that we said that we are "virtually" guaranteed of a dry run. We are unfortunately suffering the unpredictable effects of climate change, so as we all know, anything could happen. Final kit requirements will thus only be confirmed closer to the time. See full Compulsory and Recommended Equipment List here.
Carry Your Own
As we have for the past few years, runners will be required to carry their own drinking containers. The idea here is to significantly reduce the Klipspringer impact on our uniquely pristine environment. Runners will need to carry EITHER their own hydration packs OR portable / collapsible cups OR their own flasks or water bottles. Runners will be allowed to use normal disposable plastic water bottles which although not ideal are definitely recyclable AND by definition they are then no longer "single-use".
Extra Race Kit
As always our awesome garment partners Anatomic have outdone themselves! Not only can you expect the most spectacular technical quality race shirts, but we are thrilled to be able to offer you a range of fantastic and super-unique extra race kit and memorabilia. And there's MORE! Thanks to the support of what might just be the best steakhouse south of the Equator, the outstanding Desert Wolf Spur in Upington's Kalahari Mall, we are able to offer the extra race kit this year at literally giveaway prices, so treat yourselves! To have them ready for collection at Registration, orders and purchases need to be confirmed by midnight on Monday 10 April 2023.
To order CLICK HERE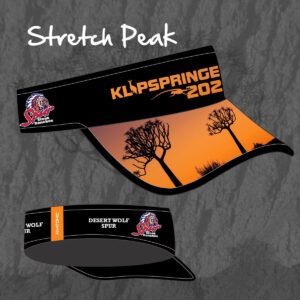 RaceSpace
Always hoping to add value and make lives easier for our runners, Klipspringer is proud to have partnered with RaceSpace, South Africa's first app-based race calendar with a unique, integrated search function. From not only trail running, but cycling, road-running, and swimming to triathlon, OCR and Adventure Racing, RaceSpace brings the what, when and where of racing to your fingertips! All you need to bring is your racing game…
Download the app from Google Play or the AppStore today, and check out RaceSpace.co.za
Preparation
We are proud to tell you that the Klipspringer field of runners ranges from some of the most experienced and accomplished trail runners in the country to road runners who are completely new to the joys and demands of trail running. As such, many of you may know a lot of the training and race tips that we will be sharing from time to time, but hopefully some of you may find them useful. For more comprehensive info check out Training Tips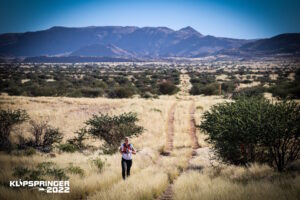 Race Tip #1: Footwear and Accessories
This is true Kalahari Desert trail running. It is hot, hard and technical. We do not prescribe specific footwear, and certainly would not want to impose on those hard-core barefoot runners, but we do ask that you take your footwear seriously for this race. Protect your feet! In addition, being the desert, expect to run through a fair amount of soft sand which can get into your shoes. It shouldn't be a major problem, but it does cause some discomfort as it builds up. It is quite fine sand so it also tends to get into your socks, which wastes time having to stop to take off shoes & socks to get rid of it. Gators might help but we find that they add some discomfort and extra weight, and often don't actually cover the parts of the shoe where the sand gets in. If you have a choice of shoes to wear, look for ones that are less likely to let sand in through the actual material.
Training Tip #1: Train with Weight
Train with your hydration pack. As any trail runner who has run for more than a couple of hours with their pack knows, it really helps to have your back, neck and shoulders conditioned to the extra weight. This is even becoming a thing for road runners as more and more road events go green and require participants to be more self-sufficient and less reliant on those awful plastic sachets. We recommend that you estimate how much weight you will be carrying on race day, and add a couple of kilograms for training runs. It is also important to get comfortable with your pack in terms of sizing, strapping, zips and pockets, and the actual hydration refill system – you don't want to be finding stuff out on race day!
That's it for now. Good luck with this important training period, and as always feel free to shout with any questions.
Looking forward to seeing you all in the Desert!
Warren & the Klipspringer Team