Klipspringers!
Almost there! The time for talking (and training) is done. Are you ready for the desert?
First things first, it's looking nice and hot for Race Weekend. This forecast is quite different to how it looked a week ago, so it could look quite different in a week, but be prepared. Mostly, HYDRATION! We will be enforcing the Race Minimum Requirements of a STARTING VOLUME OF WATER of 1.5L Challenge & 1.0L Lite. BUT PLEASE REMEMBER that only really matters in the first part of your race. DO NOT LEAVE any Aid Station without having first drunk plenty, and then having topped up back to AT LEAST the initial amounts. This goes for the racing snakes, the Sweepers, and everybody in between! It would also be good to have some electrolyte replacement with you out there.
Second, and less exciting, there have been sporadic reports of service delivery protests in the North West Province on the main route in to Upington / Augrabies from Gauteng. It seems to happen this time of year and for those of you driving from points East it's worth keeping your eye on traffic news. We will also keep you pretty much LIVE posted courtesy of Klipspringer partner MacDonald's Transport and their extensive network of national logistic & trucking operations.
Lastly, please keep an eye on your phones this coming week. We are working on some cool stuff to make your Race Weekend even MORE convenient & fun which hopefully will be finalised in the next couple of days. We will keep you advised by email & SMS.
Race Tip #4 – Pacing Your Race
The Klipspringer routes for both races (Challenge & Lite) over both days are broken down into nicely identifiable segments by the well located Checkpoints & Aid Stations. This makes it quite convenient to pace your race in terms of speed, effort, nutrition & hydration, and expectation. As any experienced trailrunner will tell you, it helps to check out the Maps & Profiles and Aid Station placings and to at least have a rough strategy in your head before you hit the ground running.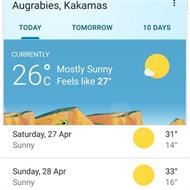 For those of you later entrants who didn't get them (and for those too lazy to have read them before), please check out the important info in the previous Pre-Race Briefings.
As always, any questions just shout!
Regards,
Warren
#klipspringer2019