Hey Klipspringers,
Three weeks to go! The bulk of your training is now (hopefully) mostly done but this final stretch can still be hugely valuable. Just be sure to watch where you're going and don't injure yourselves! Meanwhile reports from the Park tell us that the Falls are flowing strongly and the trails are looking fantastic!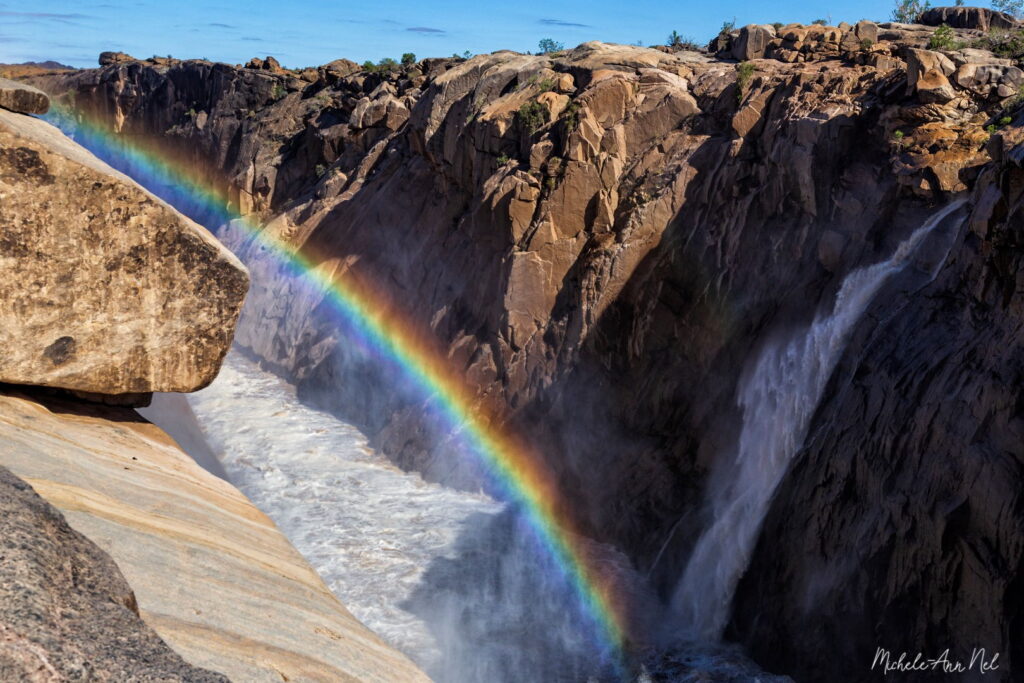 Entries & Deadlines!
Please note that entries are still open and only close at midnight on Wednesday 21 April, so if you know anyone who still hasn't entered get them onto the website to make sure they get their entries in! Remember that only paid entries are confirmed!
Deadline regarding shirts for entries: Entries are normally closed off two and a half weeks before the race. However as a result of Covid-19 we extended the entry period this year as far as we absolutely could. What this means however, is that entries received after midnight Thursday 15 April 2021 will be treated as Late Entries and we will unfortunately not be able to include Race Shirts in the entry packages.
Deadline regarding shirts for refunds and rollovers: As a result of the Covid-19 uncertainty we introduced flexible and generous Refund and Rollover policies, essentially doing away with the usual deadlines. These policies remain in place however we do need to allow for race shirt commitments so we don't get left with a bunch of shirts that are essentially unpaid. As such, any Refund and/or Rollover requests received after midnight Wednesday 14 April 2021 will be subject to an additional charge of R350 for the Race Shirt.
Weather & Compulsory Equipment
Although it's a long way out, the Race Weekend weather forecast for Augrabies is looking great for running! That being said, although it is not looking too hot it will still be warm, and for most of the field that will be out there after 11h00 in some of the hotter parts of the course, heat exposure and dehydration remain a factor. The requirement that each runner (in both Challenge and Lite races) carries a minimum of 1.5l of water or fluid at the start (on both days) will be enforced. It is also recommended that you carry some kind of rehydration / salt or electrolyte replacement product to mix with your water. It will definitely come in handy.
Carry your own: Runners will be required to carry their own drinking container. The idea here is to minimise time spent at the Aid Stations and reduce any opportunity for contact infection, as well as to significantly reduce the Klipspringer impact on our uniquely pristine environment. Tables will be manned with race volunteers who will assist with the pouring of water etc. into containers, so in effect runners should not have to touch anything other than their own equipment. Runners will need to carry either their own hydration packs or portable / collapsible cups or their own flasks or water bottles. Runners will be allowed to use normal disposable plastic water bottles which although not ideal are definitely recyclable and by definition they are no longer "single-use".
Sanitisation: As usual we will have well-stocked stations as far as nutrition and race food goes. We will also have loads of sanitiser on hand at the tables, and it will be a requirement that runners properly sanitise their hands before tucking into the goodies. This is an important safety protocol that will be strictly applied.
Masks: In addition to the usual list of compulsory equipment, runners will be required to have masks with them at all times. These will be required to be worn at Registration, at the Starts, and at any potential contact situation along the route or at the Race Village. By definition the Kalahari provides us with wonderful natural social distancing, so masks are not necessary while running. However we do ask that masks stay on for at least the first couple of hundred metres of the race each day as the field naturally stretches out. We also ask that we all be extra considerate of the Race and Park staff and volunteers as far as mask wearing and their safety goes. Don't forget you can order and buy your very own specially designed Klipspringer 2021 masks and buffs here
Registration & Pre-Race Briefing
Registration will take place at the Augrabies Falls National Park Conference Room (just before Reception) on Friday afternoon 30th April from 15h00 – 18h00, where you will register and receive your race pack and race number. There will be a small Registration facility at the Start on both Saturday and Sunday mornings for those people who absolutely cannot make it on Friday – times for these will be communicated closer to the Race but for those planning on making use of this it is recommended that you are at the Start to register by no later than 06h00. Please be especially aware of mask wearing and social distancing at registration. If there is any part of the Race Weekend to be especially careful, this is it.
There will be no physical Race Briefing at the race venue this year! We will put together a Virtual Race Briefing Video that we will distribute to all runners and put up on social media during the week before the race, giving everybody more than enough time to watch, digest and ask questions if necessary.
Khamkirri and people staying on the North Bank
We know a lot of Klipspringers are staying at our awesome race partner Khamkirri this year, as well as in some other places on the North side of the river. To make their lives easier we will be organising a collective remote Registration facility so you don't all have to drive the long road via Kakamas and back to register and pick up your race packages. Anybody wishing to make use of this facility please email Russell Nugent at russell@energylabrunning.com as soon as possible.
Physio
Don't forget to make your physio bookings with Race Physio Louise De Jonge. 30 minutes of Louise's's magic healing hands for only R300/session (cash or card). Your legs will thank you! louisedj.fisioterapeut@gmail.com or WhatsApp 0798945076.
Race Merchandise for Sale
Remember that these awesome Klipspringer race merchandise items can still be ordered for collection at Registration but only until midnight on Sunday night 11 April! Merchandise Shop
Race Tip #2 – Following the trail and Orientation
Following the trail and not getting lost is one of the most important aspects of trail running. Many a race, including some of the world's biggest, have been won or lost because of a wrong turn at a critical time! Don't let it be you! The Klipspringer trails will be comprehensively marked and nobody should get lost, but pay attention! Day One will be marked with specific highly-visible Klipspringer orange ribbon markings, and Day Two will be marked with ribbon and with traditional SANParks Hiking Trail markings (remember that Day Two IS the legendary Klipspringer Hiking Trail). Please always be aware that this is a remote and inaccessible trail in extremely tough terrain. It is unlike the Otter Trail, for example, where the trail is kept clear and visible by the feet of thousands of hikers and tourists every year, and where if the ocean is not to your left, you know you've gone wrong somewhere. In addition, it is not just marketing when we say that the remote Northern Section of the Park has the course running through parts that have literally not seen human feet! So although you shouldn't, there is always the possibility of finding yourself off the trail. Please note that the race maps are not navigation standard and the best advice here is that each and every runner take responsibility for their own run – do not just follow other runners, always be looking for the next trail marker, and pay attention to the actual direction of the arrows and trail markers (and Race Organiser instructions in Race Briefings). Also try and just be generally aware – if you've run for more than 100m – 200m without seeing a marker, the chances are that you are off the trail and should double back to the last one you saw. We will repeat this advice many times before the Race!
Race Tip #3 – Race Nutrition
Now is the time to start planning your Race eating. Yes there will be a lot of delicious (and nutritious) stuff at the Water Tables so you will definitely not go hungry. However it always pays to think of anything in particular that you might like to have with you on a long hard day out on the trails and have it with you. It also pays to have an emergency stash of something that can hit that spot if you do hit an energy wall in between Tables.
Past Communications
If you missed the previous email briefing it contains a lot of important info so make sure you read it. You can find it on the website.
Enjoy this last stretch of training and as always any questions just shout!
The Klipspringer Team